The Trigger's body can be defined in three different ways:
1.You can enter the SQL directly. If you just want to enter the Trigger body's SQL directly, hit the Run Script toolbar button

and type it in.
2.You can enter a VB Script that when evaluated will produce the Trigger Body's SQL. Hit the Edit Script toolbar button

and type it in. If you are writing a Table Trigger, the VB Script can evaluate the Table's Relations to enforce referential constraints that are not implemented declaratively by the database.
3.Use the Script Type control to select a reusable Trigger Body VB Script that has been entered in the Script Explorer under Scripts->"database name"->Trigger Body. A shortcut to this location has been provided on the Edit Script page.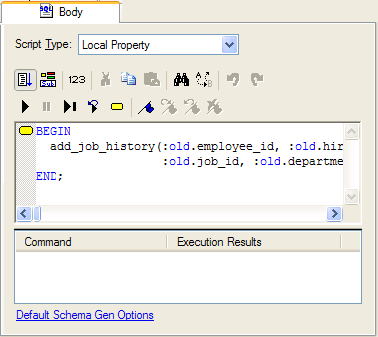 The Trigger Body Property Page when the run button has been selected.