The Find dialog provides a powerful means of searching for objects in your model. You can search by the type of object that you want to find, the property that you want to match, and a value that you want that property to match. For example, the following dialog settings could be used to find all Columns whose Name starts with the letter "S":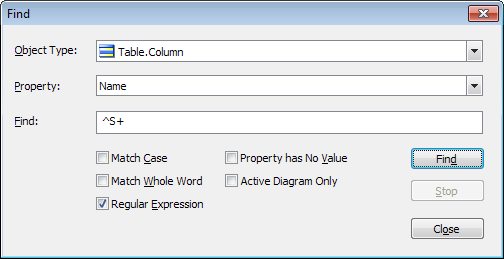 The regular expression syntax that ModelRight uses allows you to specify complex pattern matches.
You can select Property has no value to search for objects that don't have a value for the given property - like Tables without a Tablespace or Owner.
The results of the Find are listed in the Find Results window (by default in a tab at the bottom of the application). When you select an item in the Find Results window, the corresponding object is selected. The Find Results window allows extended selections so you can select multiple items and make changes to them all at once (using their Property Pages).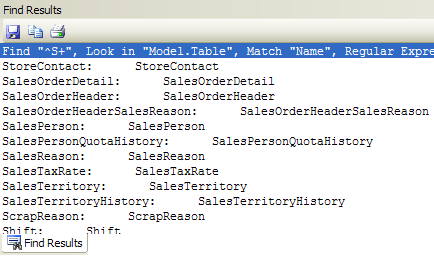 Search Toolbar
What could be more basic? But it is surprising that ModelRight 4.0 is the only product to offer such a basic feature with all the flexibility you need to find any kind of object that matches your search criteria. ModelRight has always had a Find capability to help with this, but now ModelRight 4.0 provides a search control right in the toolbar for even easier access to common searches.

Search control in main toolbar