The Diagram Navigator window displays a zoomed out view of the currently active Diagram. The red rectangle represents the portion of the Diagram that is currently being viewed. You can select and drag the rectangle to pan around the Diagram. To zoom you Diagram, you can move the zoom slider thats under the toolbar or resize the red rectangle. Also, you can just click on the Diagram Navigator window to instantly center your view around the clicked location.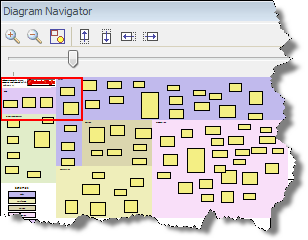 The Diagram Navigator Toolbar


- Zoom In on the Diagram Navigator

- Zoom out on the Diagram Navigator

- Zoom the Diagram Navigator to fit the contents of the Diagram

- Nudge the display of the Diagram up, down, left or right
The Diagram Navigator Zoom Slider

The Zoom slider at the top of the Diagram Navigator window can be used to quickly and easily zoom the Diagram.