ModelRight allows you to create both Table and Column Check Constraints. A Check Constraint object is owned by the Table or Column that it is applied to. You can also create Check Constraint Templates so that you can specify a constraint in one place and then reuse it throughout your Model - via inheritance. To have a Column or Table Check Constraint reuse a Check Constraint Template, simply select it in the Inherit control. In ModelRight, a Table Check Constraint can either be an Expression or a Script: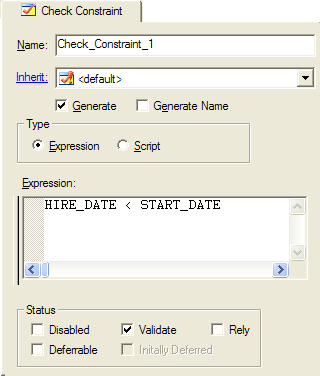 An Table Check Constraint of type Expression
A Table Check Constraint of type Script
Expression - enter a Boolean expression involving the Table's Columns. Double-click on a Column in the Available Columns control to add the Column's name to the Expression edit control.
Script - enter a VB Script that will be evaluated to produce the Check Constraint.
A Column Check Constraint contains a few more options: Min/Max, Valid Values List, and Not Null: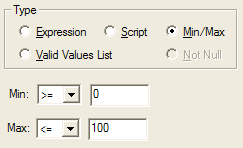 Part of the Column Check Constraint Page with Min/Max selected.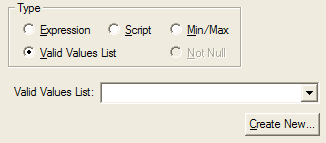 Part of the Column Check Constraint Page with Valid Values List selected

Part of the Column Check Constraint Page when the Not Null option is selected.
Min/Max - specify a min condition and value and/or a max condition and value
Valid Values - Valid Value Lists are defined as independent objects (children of the Model) and just referenced/attached here. To quickly create and attach a new Valid Values List object, click the Create New... button.
Not Null - a Not Null Column Check Constraint is automatically created and deleted by ModelRight based on the NOT NULL checkbox control in the Column Property Page.